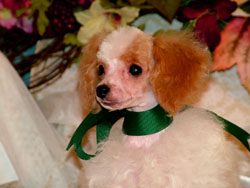 POPLAR LANE POODLE CONTRACT
Send me a email if you are interested in puppies or upcoming litters
donna@poodlepuppies.ca





THIS AGREEMENT IS MADE FOR THE BENEFIT AND PROTECTION OF BOTH THE BUYER AND THE SELLER.
The buyer must bring the Puppy to their veterinarian for a check up within the first 4 working days of receiving the puppy to make this contract valid. This is a guarantee for the first YEAR of the puppies life for any LIFE threatening hereditary or genetic defects of the Heart or Liver. Every reasonable care has been taken by the seller to insure that this puppy is in good health. Puppies do stress during moves to new homes, change of diet, also from over handling and can bring on things that are dormant such as but not limited to Worms and/or Coccidiosis, which are treatable, and not reasons for return. Puppies are like children; they are susceptible to pneumonia, colds and other infections due to drafts, cold temperatures, etc. Hypoglycaemia, which is brought on by a number of reasons: playing too much, not eating properly, the stress of being moved to a new home or just being handled too much by children or adults. These conditions are ALL THE BUYERS RESPONSIBILITY. This contract is also null and void in the event of an accidental injury to said puppy. If a replacement is deemed necessary due to a LIFE threatening genetic defect within the first year, it will be made for the same value, unless buyer wants to pay the difference of a more valuable puppy. THERE ARE NO CASH REFUNDS. The buyer must return the puppy at their expense to the seller. A letter from two licensed veterinarians is required with such problem stated in order for a replacement to be made to purchaser. If you would prefer to keep your puppy after the letters from the Veterinarians have been sent to me, you can choose a new pup for half the purchase price of what you paid, for the same size puppy. If you want a different size the price difference will be applied to the pup you choose. The difference you will have to pay. Should a death occur due to unknown reasons during the first Year of the Puppies Life, an autopsy must be performed by a licensed veterinarian, and a copy of such report forwarded to seller before determining if a replacement will be made. The Veterinarian must confirm that it is the correct dog by confirming the Tattoo in the right ear or reading the microchip and writing it on the autopsy report of the dog. This must be returned if a replacement is deemed necessary. All expenses are at the buyer's expense People often want to know the exact size, colour or personality of a puppy when it is grown. I can only estimate that by going by previous litters and the parent's characteristics. For this reason, I make no claims as to the mature size, colour or disposition of said puppy and no other claims or agreements about this puppy's development, unless noted below the seller's name. If you choose to breed or show your pet, That's fine, it is your choice. However, seller will not be deemed liable if pet is infertile or unfinishable for any reason including only having one testicle. We represent our puppies as beautiful loving pets only. Fertility and Finish ability of said puppy, male or female, is not guaranteed as these puppies are sold as quality pet puppies not for show, breeding, etc. A lot of care, love and time as been given to this puppy prior to its adoption. Please make sure you are willing to make this same commitment. Hope you have Many Happy Years with your New Friend.




SIZZLE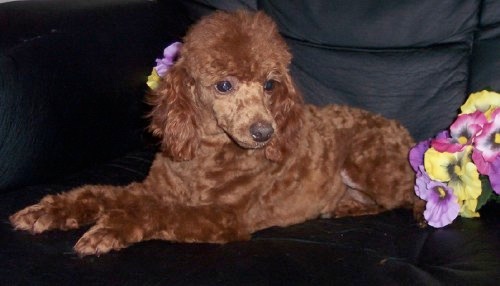 SUNDANCE, SHIRAZ, CIMERRON AND PIPPIN
ALL SOLD