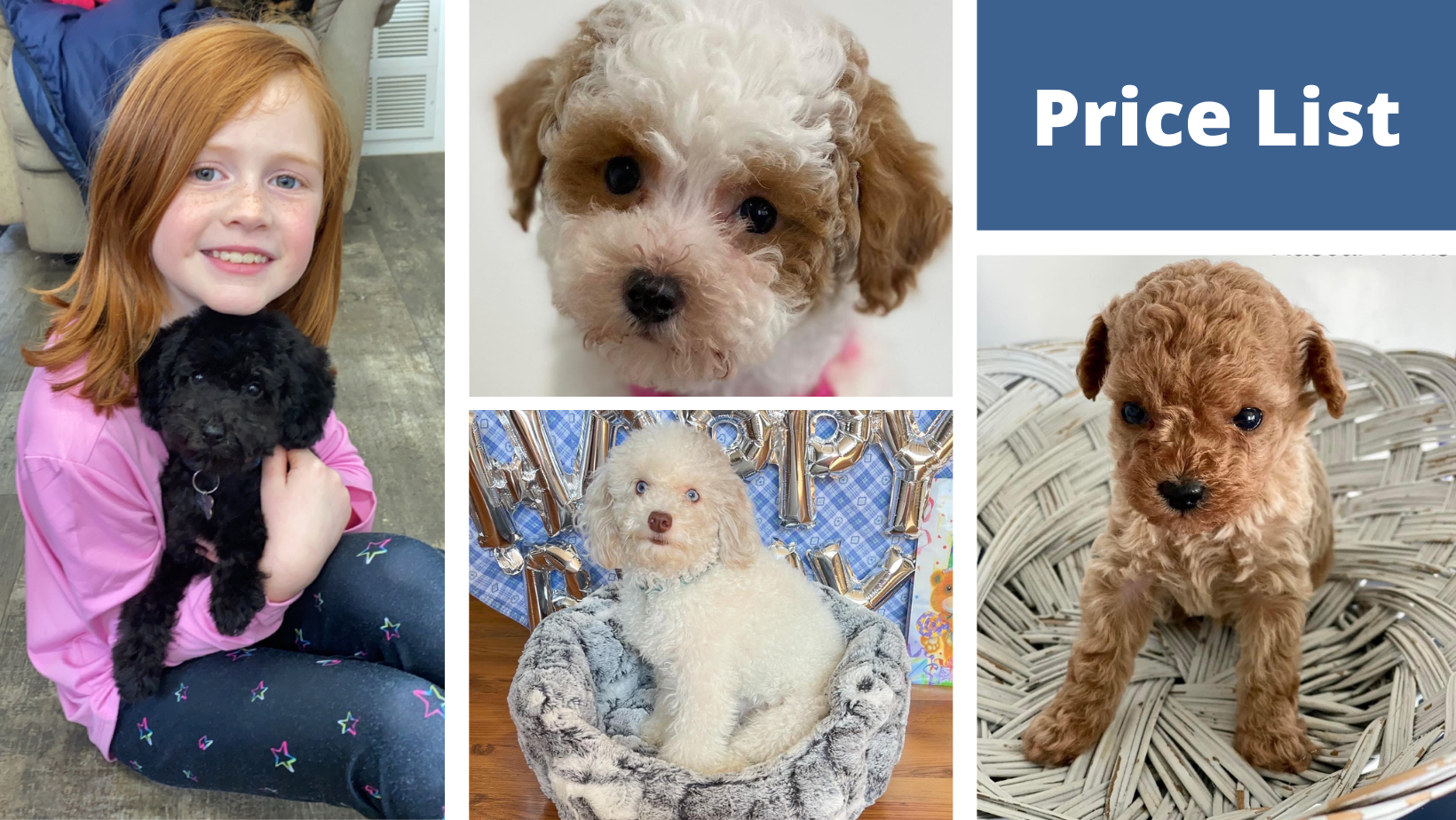 Price List
CKC Registered Poodles
All Prices are subject to 5% GST
Miniature
Poodles
$2,500.00
11 - 15 inches • 9 lbs - up

Toy
Poodles
$2,500.00
9 - 10 inches • 7 - 9 lbs
Tiny Toy
Poodles
$2,500.00
8.5 - 9 inches • 5 - 6 lbs
Teacup
Poodles
$3,000.00
Under 5 lbs
Deposit

Deposits are non-refundable

Choose your puppy once they are born.
A deposit of
$500.00
is required to hold your puppy.
Balance to be paid when a week before they go home.
Shipping Prices
Flight Costs
For small - med kennels

Flying out of Regina, Sask within Canada
$400.00
For Large kennels

Flying out of Regina, Sask within Canada
$450.00
Vet Certificate for Flight
For Vet certificate to fly for all puppies under 12 wks
$50.00
Delivery Available

To nearest town ( Swift Current, Moose Jaw or Regina)
$75.00
Pick Up Age
Toy and Miniature pups can go home if picked up, around 8.5 - 9.5 weeks old.
Tiny toys and Teacups can go home if picked up, around 10 - 12 weeks old

Shipping Age
Toys and Miniatures can be shipped at 10 - 12 weeks of age.
Tiny toys / Teacups can be shipped by 12 - 14 weeks of age.

Please note: If you would like me to keep your puppy longer then those ages, I charge a $ 30.00 a day or $ 150.00 a week to Board your puppy. There is also a additional $ 50.00 fee for the second and third puppy shots, if they are still here when those come due.
Each Puppy comes with:
How to Reserve a Puppy
For Puppies on the "Puppies for Sale" page:

Send me an email or phone me. Let me know which Puppy you want.
If the puppy is available you can send a
$500.00
deposit to put a reserve on a puppy.
How to be Added to the Waiting List
To be added to the waiting list, please send me an email with a
$100.00
deposit, with your name, mailing address, phone number and email.
I will email you in order of the date I receive the deposit once the puppies are born.

When there is an available puppy born, you can choose your pup and send the balance of the deposit.

The additional deposit of
$400.00
is accepted after a puppy is chosen and is a non-refundable deposit.
All Sizes are an estimate only… going by previous litters and the poodle weight chart.
I cannot guarantee the mature weight and size.
Information
I try to make sure that each puppy goes to a good home, with people who will love and take care of them.

All the puppies all have their tails docked and their dew claws removed at 3 days old. Unless requested before they are 3 days old and a deposit is sent for that pup.

At eight weeks they have their first shots.

Each puppy is sent to their new home with a care package which includes, Tuffy's Premium Puppy Food, that they eat, vaccination chart, which show the shots that they have received and a brand new hair cut.

They can go to their new homes around 9 - 12 weeks….unless they need to be shipped. Then at least 10 - 12 weeks of age (Teacups will be kept until 12 - 16 weeks)

We can air ship your puppies to you . At your cost, we will arrange shipment and shots (if necessary) and purchase a crate for your new baby and ship them at 10 - 16 weeks of age, if they are big enough.

These cost can vary as to where the puppy goes.

All expenses and the cost of the puppy must be paid a week before I will ship the puppy.