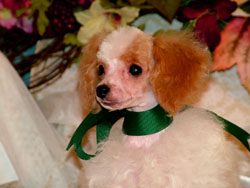 PRICE AND RESERVING A PUPPY

New litters are posted as soon as they come.

All Prices are subject to 5% GST
Request Information on available puppies
Go to
"Contact Me"
page
Send me a email if you are interested in puppies or upcoming litters
donna@poodlepuppies.ca

Prices are on this page.
Deposit and waiting list are on this page.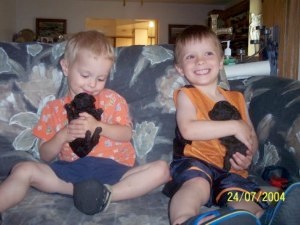 How do you reserve a puppy???

For Puppies on the "Puppies for Sale" page:
Send me an email or phone me. Let me know which Puppy you want.
Send half the purchase price of the puppy to put a hold on a puppy.
I will hold the puppy for one week while waiting for your deposit.
OR
For Future Litters:
send me an email and I can put you on
my waiting list and email you in order of the
waiting list, when the new litters are born.
Deposits are accepted after a puppy is chosen and are non-refundable

REGISTERED POODLES
All Prices are subject to 5% GST

Miniature: 11" - 15" 9 lbs - up
$ 1,500.00

Toys: 9" - 10" 7 lbs - 10 lbs
$ 2,000.00 females $ 1,500.00 Males

Tiny Toys: 9" 5 lbs - 6.5 lbs
$ 2,500.00 females $ 2,000.00 males

Teacups: 9" and smaller ...4.5 lbs and under.
$2,500.00 - $ 3,500.00

ALL PUPS WILL COME WITH CKC REGISTRATION

Shasta and Kahlua's puppies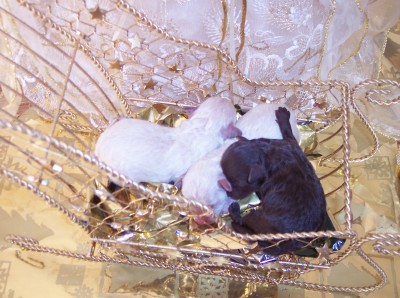 SOLD

Shipping prices:

For small - med kennels
$ 300.00 - $ 350.00 flying out of Regina, Sask..... in Canada

For Large kennels
$ 350.00 flying out of Regina, Sask..... in Canada

An extra 100.00 to fly out of Saskatoon, Sask (for milage costs)

or delivery charge of $ 50.00
to nearest town ( Swift Current, Moose Jaw or Regina)

Toys and Tiny Toys can be shipped by 9 - 12 weeks of age.
Teacups can be shipped by 12 - 16 weeks of age.

Boarding your Puppy!
If you would like me to keep your puppy longer then those ages,
I charge a $ 10.00 a day fee to Board your puppy.
There is also a additional $ 50.00 fee for each, the second and third puppy shots,
if they are still here when those come due.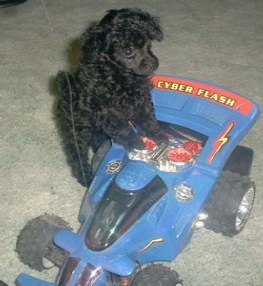 Reserve your pup today
Deposits are non-refundable
All Prices are subject to 5% GST

Choose your pup in order of your number

RESERVE LIST
All Prices are subject to 5% GST

2015
Deposit list

1. Susan Whetter
-tiny teacup
- Black female

2 . Natalie Genereux
- tiny teacup

3. Viki Hellund
- Tiny Teacup

4. Nidia Masse
- Toy Female

5. Tabatha
-Red tiny toy female

6. Fiona Yim
- 2 -Red poodles






Pets Plus Us Insurance

Each new REGISTERED puppy comes with a FREE Pet Plus Us Insurance
for the first 6 weeks of their lives with their new owners,
worth $ 1,150 of coverage !
Puppy Health Voucher
As a new puppy parent you may not be aware of pet health insurance;
something that could help you save your puppy's life one day.
The voucher entitles you to:
$1,000 to cover veterinary fees for illnesses and accidents
Your coverage begins after only 48 hours (from the date and time you take your puppy home) and continues for 6 weeks.
We pay for 80% of fees at any veterinary practice.
You are responsible for the first $50 per condition (the deductible).
$150 for advertising and reward
If your puppy is lost or stolen, call us and we will help.
$250 death benefit
In this unfortunate event we will share in your final costs.

Watch for your complete Pet Plus Us voucher package to arrive shortly after your new puppy comes home.
Pet Plus Us has many pet health insurance plans to protect your puppy for its entire lifetime.
Additional coverage:
Don't be caught unprotected, call before your voucher coverage runs out to receive these benefits:
No enrollment fee
Continuous coverage, without interruption


How do you reserve a puppy??? Send me an e-mail or phone me.
Send a $ 200.00 deposit to put a hold on a puppy after they are born. First hold gets first pick from the litters when they are born.

Past pups

T-cup pup / 2004
Gabriel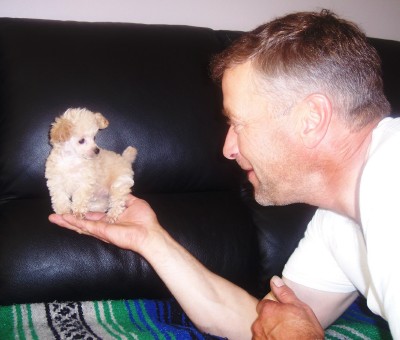 9 weeks 18.2 oz


INFORMATION
I have been breeding Toy Poodles since 1996. I try to make sure that each puppy goes to a good home, with people who will love and take care of them.
All the puppies all have their tails docked and their dew claws removed at 3 days old. At six weeks they have their first shots . Each puppy is sent to their new home with a care package which includes, Purina Puppy Chow food that they eat, vaccination chart, which show the shots that they have received and a brand new hair cut. They can go to their new homes around 8 weeks. (Teacups will be kept until 10 - 12 weeks)
We can air ship your puppies to you . At your cost, we will arrange shipment and international shots (if necessary) and purchase a crate for your new baby and ship them at 8-14 weeks of age, if they are big enough.
These cost can vary as to where the puppy goes.
They come with their first shots, but if International Shots OR Vet certificate are needed the charge will be assessed and applied to the total bill.
All expenses and the cost of the puppy must be paid by the time the pup is 7 - 8 weeks old and before I will ship a puppy.

Buttons and Odessa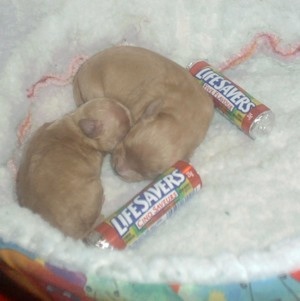 1 Week old